"Dominance in Dog Training Debunked" or is it?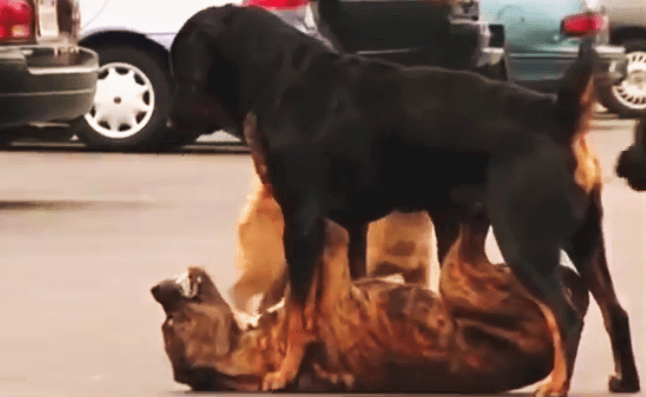 1. Dog behavior can't be explained through wolf behavior.
2. Dominance is not a factor in dog behavior or dog-human relationships.
Are these revolutionary discoveries or is it irresponsible twisted science?
Watch the video below and read on to decide for yourself:
According to The Association of Pet Dog Trainers (APDT), the largest association of dog trainers in the world, these claims are absolutely true and based on scientific research. Because of the APDT's large following, these claims have ran like wild fire through the dog training community. The web is flooded with blog posts, youtube videos, and literature mimicking these claims.  It is impossible to estimate the amount of people, dogs, and children that are injured and killed as a result of the organization's false claims, but there are no regulations or policing in the dog training field.  From 1993, the year the APDT was founded to 2008 the amount of hospital admissions due to dog bites spiked a staggering 86% (click here for reference).  All found references from 2008 to present seem to reflect that the amount and severity of bites are only getting worse.
According to their position statement located on their web site(http://www.apdt.com/about/ps/dominance.aspx):
"Dogs are not wolves. The idea that dog behavior can be explained through the application of wolf behavior models is no more relevant than suggesting that chimpanzee behavior can be used to explain the intricacies of human behavior." – Association of Pet Dog Trainers
This statement then gets irresponsibly twisted even further by any commercialized "positive dog trainer" with an agenda that is more important than teaching true canine behavior:
"Dogs and wolves are in fact quite different species", "Today's domestic dog is approximately as genetically similar to the wolf as we humans are to chimpanzees." - Victoria Stilwell, positively.com, the truth about dominance, dogs vs wolves.
Although, these statements do not make reference to any specific studies, I will share with you some of my own knowledge about this statement.  I possess a college education that included both the biology, behavior, and scientific classification of canines and primates.  I have worked and directed training on a professional level with humans, chimpanzees, dogs, and a wolf:
For one, scientifically dogs are in fact wolves. They are considered the SAME SPECIES by scientists and can interbreed, produce fertile off-spring, communicate, and coexist quite well together if placed together in an enclosed environment.
...there is no biochemical genetic test that can even distinguish wolves from domestic dogs. "....I would taxonomically identify all wolves, wolf hybrids and domestic dogs as the species Canis lupus.

I. Lehr Brisbin, Jr., Research Professor, Savannah River Ecology Laboratory
Chimpanzees, on the other hand, are NOT the same species (not even in the same genus) as us, and can't interbreed with us (despite the urban legends). Their methods of communication are completely different than ours. Judging by media history and what I have seen with my own eyes – it is at best a great challenge to deadly for humans to coexist with them.
Humans and Chimpanzees have diverged about 5 million years ago and we have evolved into a species with a brain weight nearly 4 times as large as a chimpanzee's, of much higher intelligence, complex culture, and vast lingual abilities.
A wild wolf is genetically little more distant from the domesticated dog than a wild mustang is to a quarter horse.

Dr. Michael W. Fox, D.V.M., Ph.D., D.Sc
Dogs are actually the domesticated version of the wolf (we are NOT domesticated chimpanzees!) and have interbred for thousands of years and still to this day (just search google and buy your very own wolf/dog cross - NOT recommended). Technically a dog/wolf cross cannot even be called a hybrid from a scientific point of view since they are the same species.  Many breeds of dogs in the world are the result of modern interbreeding with wolves (Saarloos Wolfhond, Czechoslovakian Wolfdog, Lupo Italiano, etc…).
Domestication was mostly accomplished through selective breeding for neoteny, which is retention of traits normally seen only in juveniles including a personality that better accepts a submissive role within a human pack. 

Whether breeding for neoteny was purposeful or not, it did make for more docile "wolves" which were not as difficult to control and hence more likely to succeed in human establishments.  These were more likely to breed to other "easy to handle" wolves - and the path toward domestication began.
Some of the many breeds we see today are the result of thousands of years of selectively breeding for physical characteristics and enhancing or suppressing behaviors inherent to the WOLF in different combinations to suit a specific purpose.
Think of the strong predatory and kill behavior of most terriers – even more so than the wolf, but from the wolf.
Think of the strong tracking instinct of the bloodhound – an enhanced skill originating from the wolf.
The many hunting breeds that are skilled in hunting in packs like wolves, and herders that are skilled at stalking like the wolf.
Not all domestic dogs show all the behaviors of the wolf – most have had some suppressed so that they would not kill the sheep they are herding, or will will stay in a fight with odds stacked against them (terriers), or for countless other reasons.
But, all these working behaviors will find an origin and can be explained through some suppression or enhancement of the wolf which in fact can be considered the complete dog – where all the pieces originally came from.  This makes the wolf invaluable for studying pet dog behavior.
Virtually, all of a dog's body language and communication skills will find an origin from some point in the wolf's life cycle and most dogs can communicate quite freely with wolves.
Just about every behavior problem plaguing dog trainers and behaviorists can also find a source from the behavior of wolves:
Food aggression and resource guarding although normally suppressed during domestication is a normal behavior in all wolves.
Separation anxiety, a common behavior problem in our dogs, is also normal if you separate a wolf from his/her "pack".
Social related aggression in dogs toward each other and their human "pack members" are directly related to the potential triggers and developmental stages in wild dogs and wolves.
Wolves are fiercely territorial and mimic exactly the body language and  intensity of dogs labeled with "territorial aggression".
Fearfulness and skittishness may be labeled "weak nerves" when attempting to shoot a shot gun near a hunting dog, but the same quick reflexes and hypersensitivity to the environment protect wolves from falling trees, hunters, and countless other dangerous situations.
Not only can most our domestic dog's behavioral problems be traced back to wolf behavior, we can actually see a trend of reverse domestication because of the reversal of good selective breeding practicing in this world (especially the US where the mighty dollar rules most breeding decisions).  Skittishness, resource guarding, and more serious adult like behaviors are common among the products of puppy mills and back yard breeders.  Domestication takes effort to maintain, and it is well documented that in all 50 states feral populations of dogs exist.  Left unchecked dogs can return back to a complete wild state in a short amount of time and will adapt to everything from scavenging, hunting in packs to take down big game, and raising pups in dens with a single alpha female and male as seen in grey wolf populations.  Additional reference to this can be found here: Feral Dogs
Now for the APDT statement on dominance:
"There has been a resurgence in citing "dominance" as a factor in dog behavior and dog-human relationships. This concept is based on outdated wolf studies that have long since been disproven. Contrary to popular belief, research studies of wolves in their natural habitat demonstrate that wolves are not dominated by an "alpha wolf" who is the most aggressive pack member. Rather, wolves operate with a social structure similar to a human family and depend on each other for mutual support to ensure the group's survival." - Association of Pet Dog Trainers
So what they are saying is that wolves are not like dogs and humans are not like chimpanzees, but wolves ARE like humans… Does that make sense? Of course it doesn't.
The only thing that does make sense is the motivation for such outrageous statements.  Commercial competition and professional jealousy drove Dr. Ian Dunbar, who failed to go mainstream, to make an attack on the emerging TV star Cesar Milan.  Other "positive dog trainers" who made their living mostly selling books and videos joined the bashing effort.  This article here best reflects their bitterness.
Trainers, such as Cesar Milan, were the natural manifestation of a field commercially dominated by positive trainers who were busy focusing on political correctness, the next training gimmick (gentle leaders, clickers, etc.) and making sales.  There were, and still are, hoards of dogs that these trainers simply will not work with or will fail if subjected to simply rewarding behaviors, ignoring dog culture, and giving "verbal reprimands".  Cesar brought attention to areas that were largely ignored during a time when people were using clickers more than giving affection to their dogs for doing a good job.  Affection was becoming an afterthought and entitlement that dogs got for simply jumping on the couch with you.  The dog as a follower was being replaced with the dog as a perpetual human baby.  Spoiled puppies were turning into bossy and aggressive adults.  Cesar was "discovered" and thrown in the spotlight.  He never tried to fool the public and even asked Dr. Ian Dunbar to include his unedited "wisdom" in his first published book.  There was much to disagree with in Cesar's techniques, but there was plenty that was valid through the heart of his message.  He was not educated, so his terminology was not always scientifically accurate.  This was not done to deceive man or dog.
Cesar spoke of dominance often, sometimes incorrectly, but mostly in correct context.  He would talk about "dominant state" vs "submissive state". This is extremely valid and universal.  It is based on truth and not gimmick.  Dogs like humans can play two different roles depending on their company.  We act one way as a boss and another way as an employee.  We will make decisions or we will take orders.  A request from a boss vs an employee will yield two different results.
With dogs it is the same.  A dog can be a great follower, but a horrible leader.  In the canine world a dog that is "leading" is the one that makes the important decisions.  Attack intruder vs not attack, travel vs stay put, hunt vs not hunt, etc..  The canine that leads group activity is most often the "dominant" dog.  The dominant dog has first right to limited resources, and controls who else will or will not get the resources.  This may include preventing others from fighting over resources and making sure others receive resources.  I can confirm this through two decades of working full time as a trainer of problem dogs and results from studies with other canines, most importantly WOLVES.
Notable publications are from David Mech (click the links to read):
Mech, L. D., and H. D. Cluff. 2010. Prolonged intensive dominance behavior between gray wolves, Canis lupus. Canadian Field Naturalist. 124(3):215-218.
Peterson, R. O., Jacobs, A., Drummer, T. D., and Mech, L. David. 2002. Leadership Behavior in Relation to Dominance and Reproductive Status in Gray Wolves,Canis lupus. Canadian Journal of Zoology. 80:1405-1412.
Mech,L.David. 2000. Leadership in Wolf, Canis lupus, packs. Canadian Field-Naturalist 114(2): 259-263.
Mech, L. David. 1999. Alpha Status, Dominance, and Division of Labor in Wolf Packs. Canadian Journal of Zoology 77(8):1196-1203. (En Español – Posicion Alfa, Dominancia y Division del Trabajo en las Manadas de Lobos – Translation by Marcos Randulfe.)
You can read all his publications here.
Interestingly, all references to DOMINANCE BEING DEBUNKED refers to the oldest of these studies by taking a section waaaay out of context.  Mech acknowledges that dominance and alpha status is 100% valid in every situation where you have wolves of reproductive age residing together either in captivity (which most mimics multiple dog households), or in large wild packs with multiple wolves of breeding age.  But he states that the majority of wild packs only persist of the breeding pair and their sub-adult offspring  therefore in these situations, "calling a wolf an alpha is usually no more appropriate than referring to a human parent or a doe deer as an alpha.  Any parent is dominant to its young offspring, so "alpha" adds no information." From this statement APDT erroneously spread a giant lie about dominance being debunked, despite that even in studies 11 years after David Mech allegedly "debunked dominance" he writes:
"Dominance is one of the most pervasive and important behaviors among Wolves in a pack" and
"Dominant wolves, which are usually the adult parents of the pack (Mech 1999) commonly dominate offspring by forcing them to the ground. We have found no literature documenting how long such interactions typically last, but in our experience observing wolves over a 50-year period and close up during many summers (Mech 1993, 1997, 1999, 2000), such behavior generally ends in less than 30 seconds. Domination usually ends when the subjugated wolf jumps up."
Dominance debunked?  I think not.
What you will find when you go through wolf research is this...
Parent wolves are dominant to their pups by default.  Although there are no challenges or fights for the position the parent wolves still play the role of leading the group decisions and controlling resources such as food.  Parent wolves DO discipline, but since they have the correct role it is minimal and mostly done through warnings which are consistently abided too.
This is also true with domestic dogs
When wolf pups reach reproductive age (about 2 years of age) they are usually driven out by prolonged harassment from the parent or leave on their own when beckoned by a lone adult potential mate.  This is how new packs usually form.  If the wolves are in captivity and young adults cannot be driven out or leave on their own there is much more conflict.
This is also true with domestic dogs.  Studies show that dog on dog aggression within the home happen as a younger dog reaches 2 years of age.  (Interdog household aggression: 38 cases (2006-2007).
Wrubel KM1, Moon-Fanelli AA, Maranda LS, Dodman NH. )
Common triggers included conflict over owner attention, food, and found items.  FIRST RIGHT TO RESOURCES - DOMINANCE!
This is also true with dog on human aggression within the home.  It is most likely to occur about 2 years of age.  Same triggers!!  (Dog bites to humans—demography, epidemiology, injury, and risk Karen L. Overall, MA, VMD, PhD, DACVB, and Molly Love, MSN)
2 years of age is also when wild wolves will drive out the young adult, when humans will bring a young adult dog to the shelter that has become more adult like, and also when dogs will attack and sometimes KILL their owners or human challengers in the home. (dogsbite.org)
And that brings us to the other misconception of APDT's statement - that dominance in dog training, dog culture, and wolf culture all have to do with violence, aggression, certain dog training tools, and HARSH training methods.  It has nothing to do with this unless they want to claim that THIS IS what dominance in training is about.  Dominance in training is about CONTROL using the least amount of force necessary just like how canines do it so that there is no need for violence.  When there is no control as when you put a bunch of adult wolves together in captivity for the first time or you raise a puppy with no clear leadership this is when conflict arises and violence occurs.
To wipe away the complex nature of our dogs and their undomesticated counterparts is as irresponsible to the student dog trainer as it is to the dog that suffers when sentenced to euthanasia for not being understood and the child that gets bitten in the face.
I have made a career over the past two decades wiping up blood that the positive training movement has left in their path.  I would much rather be out of a job than see another person mauled because of their propaganda.
By definition, the leaders in the positive reinforcement movement are charlatans and should be held accountable for any injuries resulting from their negligence.