We currently only offer the course to members of the online community
.
Foundation Style Dog Training version 4.0 – Online Course
Your main instructor will be, K9-1 founder, Michael D'Abruzzo who has over 20 years experience as a dog training system developer and supervisor of many high volume training projects.  He is a certified career and technical education teacher for animal science in New York, the creator of a patent-pending system for behavior modification and training for all animals, and has the credentials and experience to provide you with the education you deserve.  Here, you will find an affordable mentorship program that not only will exceed anything you will find for several times the price, but is based on an honest passion for educating better-qualified trainers in an otherwise unregulated field that is dominated by marketers.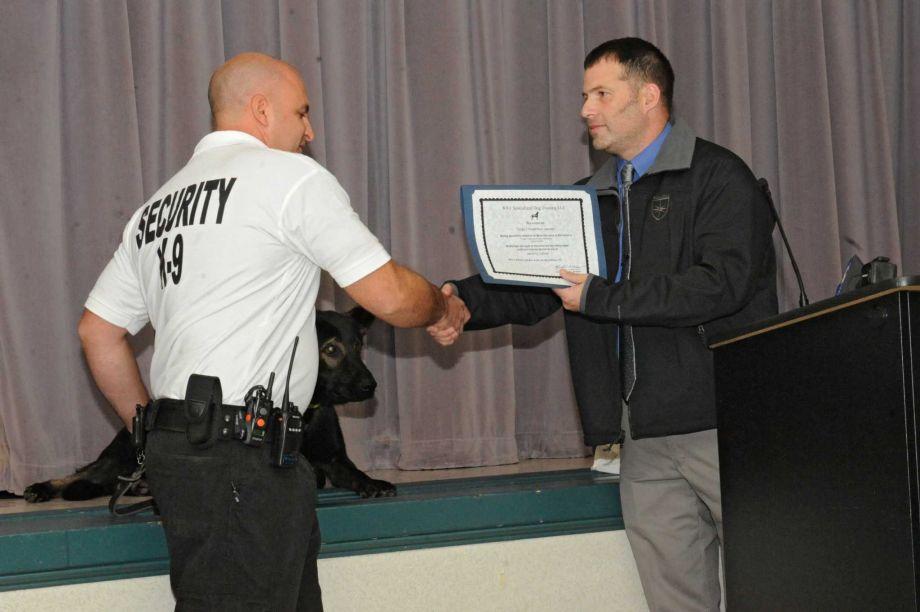 Mike has studied reward based training methods and the humane use of all compulsive methods, such as e-collars, since the 90's and was one of the first to develop and teach scientifically accurate and humane low-level systems for their use. You will learn how to use all common training tools in this program. You can read more about these systems here (about K9-1).
This has allowed for success in training dogs for virtually all aspects of the industry including the Department of Defense, FEMA, law enforcement, humane societies, aggression rehab programs, personal protection projects, media, extreme behavior problems, competition, and more.
It is not so important that the instructor has been accomplished in these tasks.  It is, however, important for his ability to train others to be successful at these tasks.  Foundation Style Dog Training is a highly technical and scientifically accurate style.  This is why it consistently produces skilled and versatile trainers that truly understand the profession and are leaders in their field.
Successful students have ranged from the completely inexperienced to graduates of the most expensive and established dog training schools. Even with formal schooling, many trainers still feel as if something was "missing" to feel confident about their new profession.  This course is designed to fill in those gaps.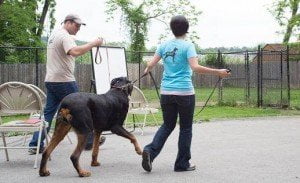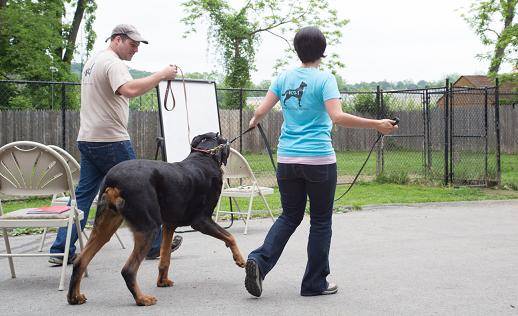 The course is geared toward the real world, where training contracts exist and lives are often at stake.  Failure is not an option.
K9-1 builds the foundation of its course upon the ethology of the canine species at the deepest level, according to the most modern studies, before attempting to teach HOW to train.  Furthermore, K9-1 builds the framework that is needed for CREATION of training plans. As a trainer, you want to understand how to reverse engineer what you see a trained dog performing so you can mimic the task or engineer a new plan for a unique request.  Licensing and government regulation for dog trainers is at the doorstep of the industry.  You want to be prepared with a thorough education and there are no shortcuts.  K9-1 keeps its course on the cutting edge of new information in the field of dog training science and mechanics.  Don't be left behind!
The Most Important Difference
K9-1 has always had a passion for training developments that benefit dogs and the people who love them.  Commercialism has never been a priority and we like to think it is evident.
Every day, dog owners seek the assistance of trusted professionals to help them with decisions and guide them to solutions. Dogs are abused or killed, and children are mauled when the wrong information or plan is delivered.
We are honored to network with many of the most trusted and ethical trainers in the industry but would like to see more available.
How the Course Works
You receive an account which gives access to our "Certified Foundation Style Trainers" group. Here, you get access to our course outline which includes lecture, scientific studies, and video. Here, you can also message and live chat with other students and professional trainers.
You work through the course at your own pace.  After a unit is finished,  you will answer quiz questions in an open format to demonstrate your understanding of the material. There will not ever be multiple choice questions. Your instructor will read your answers and schedule discussions over the phone or skype. You may need to retake the quiz or answer further questions during the discussion to move on to the next unit. Each unit builds the framework that is necessary for the next (hence why it is called FOUNDATION Style Dog Training). It is impossible to fail the course, but you cannot complete it if you cannot freely discuss each topic leading to the next.
A certification is awarded for those that complete all units and the final requirements.  This includes a verbal test that demonstrates the ability to create unique training blueprints and discuss the science of the profession (approximately 3 hours). Also required is a video of yourself explaining the theory and mechanics of each step along the path of training a dog to an advanced off-leash level.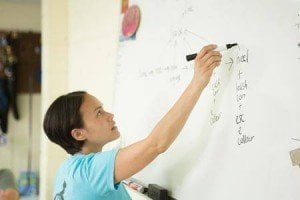 After certification, all students always have access to the newest updates in the industry and their instructor as a mentor no matter what the training task.  The goal is to create trainers that will first learn, then do, and finally, teach others with confidence. To understand how to train is not enough as a professional. You must have skill at teaching others in groups, in private lessons, to have a handler take over with the trained dog you have finished, and much more.
Mike, has been teaching scientifically accurate ways to understand canine behavior and humanely train with a variety of training tools based off of you and your client's preference.  Be the type of trainer that you always wanted to be.  Here is a clip of apprentices from 2009 and we still fine tune our techniques constantly:
An education should not be about what the instructor has done, but what the instructor can do for you as a trainer.  Here, a wolf is trained under the supervision of a certified trainer in 2010.   There is no room for error or sloppy plans with your most difficult cases:
Testimonial from a Graduate

I cannot say enough good things about Mike D'Abruzzo or the Foundation Style Dog Trainer's Course! I highly encourage anyone who is serious about dog training and behavior to learn from Mike. I truly believe this is the future for the professional dog trainer's education and industry. Whether you are a hobbyist or an experienced professional, you will learn and grow through this course.

Prior to studying under Mike, I had already attended quite a number of different courses in dog training and behavior. I however always felt that there was something "missing" in my education and thus I did not feel confident in taking the step into calling myself a professional.

What I felt I was missing became clear when I began my studies with Mike. The Foundation Style Trainer's Course thoroughly goes over not just obedience commands but also learning theory, canine ethology, health, leadership, etc. The course also focuses heavily in giving you a firm understanding of the science and reasoning behind every topic. Everything is backed up with REAL science and studies (sorry, you won't find any politically correct science here). Even more important is how the course ties everything together in a logical manner, giving you a solid understanding of how everything is interrelated in the human canine relationship.

It does not matter what "style" you ultimately decide to train with, as Mike always tells me, every trainer have their own style and I don't need to train the way he does. What the course offer is a thorough understanding in the science behind dog training and behavior. This knowledge is what allows us to critically think and formulate our own training plans and solution, without being trapped by techniques we blindly follow.

Mike is a person of integrity and I can vouch that he is truly teaching this course for the right reason: To educate and raise the standard of the dog training industry.

Davis Train
CLASS IS OFFERED TO MEMBERS.   JOIN MAILING LIST TO BE INFORMED OF UPDATES or BECOME A MEMBER HERE.
Join our mailing list to stay informed of new start dates:
Thank you for your support.
Just SOME of the material covered.
Canine ethology and interpretation of the most important studies in canine behavior.
Applied Behavior Analysis, all aspects of operant conditioning, and how it is plugged into "Foundation Style" Dog Training for:
Making a systematic plan for improving and preventing all common canine behavior problems
Training controlled obedience on and off leash
Special emphasis on:
–       aggression management
–       aggression rehabilitation
–       aggression prevention
–       categorizing aggression
–       all areas of canine anxiety related problems
–       all areas of canine "housebreaking" problems
Dog training mechanics:
–       proper leash handling
–       pros, cons, and proper use of all popular training equipment
–       different lengths of training leashes (4 inch tabs to 50 foot light lines)
–       clickers
–       flexi-training leashes
–       halter style collars
–       martingale style collars
–       slip or "choke" style collars
–       harness type training collars
–       prong or "pinch" style collars
–       remote controlled style collars (spray,tone,vibrate,electric)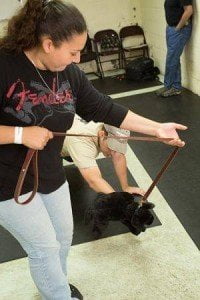 Dog Training Ethics
–       professional conduct
–       ethical client treatment
–       ethical canine treatment
Optional (no additional cost)
–       intro to personal protection training
–       intro to tracking
–       intro to scent detection
–      How to form policies and programs that will help rescue organization training programs
This is an intensive and demanding course that is also somewhat flexible.  Our requirements for certification are high, but I am confident that our style of teaching, which involves immediately applying what you learn will give you the knowledge and skill that you need to be the best you can be.   Our past apprentices have all entered the field very confident with the tools to be on the top of their field.  Here are just a few of the links to past apprentices of our style:
http://www.canine-specialties.com
http://www.duonoladogtraining.com
http://www.brooklyndogwhisperer.com
Help us make dog training more ethical and professional.
ps. any questions feel free to respond to TEXT Mike directly at 914-720-9586. Voice messages are not checked on that line.
check out our youtube channel to see recent videos of trainers in actions: k9-1 youtube